Practical Test Complete & Highway Code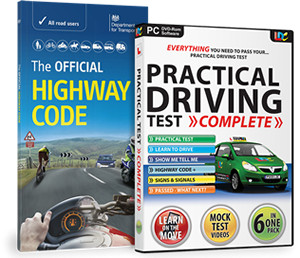 Includes the Practical Test Complete and the Highway Code.
To purchase this discounted product package please click the Add to Basket button below and then click View Basket top right and proceed to a secure check out via our checkout button. Alternatively, contact us on free phone number 0800 400 777.
Minimum PC specification
The minimum PC specification recommended to run the above software is as follows:
Operating System: Windows XP/Vista or Windows 7.
CPU: Pentium II 800.
Hard Drive Space: Minimum - 1.44gb.
Memory: 128mb.
Graphics: 800 x 600 x 32 bit colour.
Dvd-Rom Speed: 2 x or faster.
Audio: 16bit SoundCard.
Although we are confident that the majority of Computers that satisfy this minimum specification will successfully run the program we can not guarantee this as other factors can also effect compatibility.